CCK (Computer Color Kitchen) System
Color Production Management System
Achieves high-speed and highly accurate dispensing with easy operation
Allows accurate dispensing with swift and easy operation.
The dispensing process is critical in color matching, so that labor saving and standardization of the process is essential. The AUKITCHEN series allows rapid and accurate dispensing with easy operation, achieving a clean and comfortable working environment.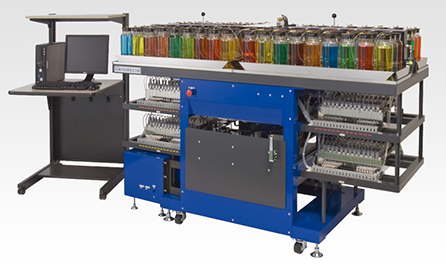 Features
The dispensing process is becoming increasingly important in the production of multiple products, treatment of small lots, and short delivery times.
The AUKITCHEN series allows rapid and accurate dispensing with easy operation, achieving a clean and comfortable working environment. We provide volumetric, gravimetric, explosion-proof and non-explosion proof types in various sizes.
Volumetric
A method for controlling the feeding of coloring materials by volume (cc).
Enables designation of feeding by weight (g) if calibration is conducted.
Allows simultaneous feeding of multiple coloring materials with rapid, highly accurate measurement.
Gravimetric
A method for controlling the weight of coloring material actually fed from the system with an electronic balance.
Allows rapid and highly accurate dispensing of a large volume of material.
Explosion-proof / Non-explosion proof
We also have explosion-proof types for safe use with raw materials containing organic solvents such as ink and paint.
Customization
Allows customization of the dispensing accuracy, speed, and equipment size appropriate for the installation site, etc. in accordance with customer requests.
Applicable materials
Liquid: For low viscosity (dyes, etc.) to high viscosity (offset ink, etc.) liquids
Powder: For pigments, etc.
Applicable industries
We have a lineup of products for supporting color matching in addition to the automatic dispensing system.
Our products enable you to obtain optimum color solutions.
Textile industry: Textile plants (dyeing, textile printing)

+

Dye Automatic Measuring System (for laboratory) <AUKITCHEN-C100>

Rapidly and accurately measures chemical liquid with our own measuring mechanism design. The system provides a mechanism to prevent sedimentation of the loaded liquid, allowing accurate measuring at any time.

On-site Measuring System <AUKITCHEN-3000, AUKITCHEN-PF>

Supports a wide range of measurement including use of a balance or a dispenser, allowing highly accurate measurement.
We offer advice to customers according to the quantity and volume of chemical liquid for preparation.

Automatic Storage/Weighing Control System <Dye rack selector & measuring system>

Space-saving system combining dye weighing control and automatic storage (bucket rack) for achieving efficient weighing without errors.

Dye Stock Preparation System <AUPET/MONOPET>

Accurate dye liquid preparation starts with highly accurate stock preparation. AUPET/MONOPET prepares the stock with high speed and high accuracy.

High Performance Dye Tester <SUPER DYE>

KURABO's unique pot rotation method reproduces on-site dyeing in real time to improve dyeing performance. This system allows temperature control, and start-and-stop operation separately by pot.

CCM system <AUCOLOR-TX10>

CCM specialized for the textile industry, maximally treating five kinds of mixed spinning blend.

Print industry: Packaging, seal labels, commercial printing (bookbinding), gravure printing

+

Automatic Dispensing System <AUKITCHEM series>

Automatic ink dispensing system with communication function with CCM. Allows accurate and high-speed measuring process by setting a maximum of 16 colors (default 10 colors) of primary color inks.

Planetary Type Mixing and Deaerating System <MAZERUSTAR series>

Allows mixing by rotation and revolution without blades, rods or spatulas. UV ink can be treated in approximately 90 seconds.

Test binding system <RIT-03>

Test binding system with superior binding reproduction capability for accurately calculating ink blending in the CCM system.

Desktop UV radiation system <SUV-400>

UV radiation system equipped with an ozone-less type high pressure mercury lamp. Allows rapid drying of samples prepared with the test binding system. Air duct work is unnecessary.

CCM system <AUCOLOR-OF10>

A core color matching support system for rapidly calculating ink preparation for accurate control.

Plastics industry: Manufacturers of resins, compounds, coloring materials, film, wallpaper, leather, sealing materials

+

CCM system <AUCOLOR-VP10>

A system with sophisticated functions such as automatic pigment selection and calculation that considers film concealment. It can treat various materials flexibly.

Paint industry: Paint manufacturers, paint shops

+

CCM system <AUCOLOR-PN10>

Color matching support system specifying paint and silk screens that are applicable to can color matching.
Support system
KURABO has its own development section within the company for designing/developing software.
KURABO has also established a maintenance service company (KURABO TECHNO SYSTEMS) to swiftly and carefully provide after-sales service such as maintenance of equipment and operation advice.