Computer Color Matching(CCM)
Color Production
Management System
KURABO provides solutions for color problems with CCM
A computing system relating to colors, from preparation of color recipes and color management, to networking of production lines. We have an extensive lineup for a range of industries. The results of the prepared colors can be managed with a computer, and the system also provides color difference calculation and shipping lot management.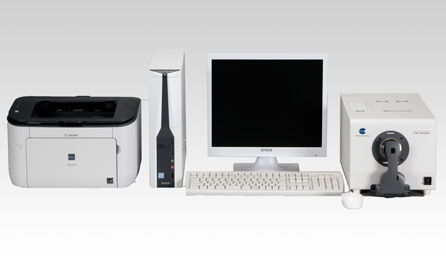 Main functions
CCM, or Computer Color Matching, is a system that measures the reflectivity of a target color with a spectrocolorimeter and calculates the blending ratio of color materials (primary color) which are registered in a computer in advance to reproduce the color.
Since the results of the prepared color can be kept in the computer, customers can meet repeated orders swiftly, not just calculating blending recipes. The system also has a function for controlling color quality such as calculation of color difference and control of shipment lots.
CCM:
Provides skill-less color matching
Allows multi-item and small lot orders
Allows quick delivery
Provides more stable repeat color
Reduces the need for long-term storage of primary colors / color matched products.
Features
System specialized for each industry
For the textile, printing, resin, and paint industries. In 1978, KURABO CCM started with the intention of introducing high technology to our in-house dyeing plant, and now it has been introduced to various industries as an on-site-oriented system.
Various kinds of network connections
Blending recipes can be transferred via a network connected to the automatic dispensing system, AUKITCHEN. It allows rapid dispensing without input errors. We connect to the customer's host computer with a special order program to establish the CCM system linked with the customer's production information.
Applicable business sector
KURABO has an extensive lineup of core CCM products and other color matching support products.
KURABO can provide more efficient solutions for problems relating to color.
Support system
KURABO has its own development section within the company for designing / developing software.
For after-sales service, a maintenance service company (KURABO TECHNO SYSTEMS) has been established to swiftly offer detailed advice on the maintenance and operation of the equipment.