CASE.2

Installation of the Can Buckling Inspection System

Beverage manufacturer

Reduced complaints by detecting buckling and dents. Contributed to an improvement in productivity by specifying a defective spot.
Product/Device name

Can Buckling Inspection System

Product Details
Purpose
To detect buckling and dents in beverage cans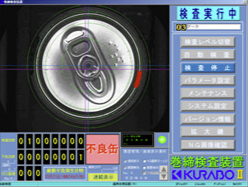 Before
In the fastest 2000 CPM production line, sampling tests were conducted because visual total inspection was impossible. However, buckling and dents occurred at random, so defective products were possibly being shipped, leading to market complaints.
After
Installation of the KURABO Can Buckling Inspection System enables a total circumference inspection for buckling and dents.
The system not only prevents the shipping of defective products, but achieves an increase in productivity by checking the occurrence conditions (when, where, and how) of buckling and dents from a recorded image of defects, enabling feedback to be provided to the production line.