Example for BluePrint company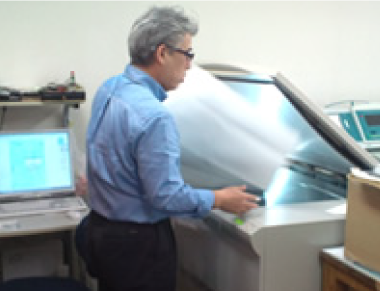 Scanning & copying in service bureau.

Tanaka BluePrint Co. Ltd. provides various types of copying and print services.
Main customers are Railway companies and Government offices who need to reproduce drawings or scan and digitize book originals.
Some railway drawings are as long as 20m to 30m.
Tanaka BluePrint is equipped with the latest digital scanners and copiers in order to cope with increasing and more demanding digitizing jobs.
Usage and Benefit of the Flatbed scanner

Large book original scanning

Benefiting from the scanner's large depth of field, the flatbed scanner is being
used to scan "uneven surface documents" such as bound books and Japanese
"Washi" paper. Also it is used to scan fragile documents which need to be handled
with care. When the original is larger than A1 size, Kurabo's Aupier-GigaLay software is used with the scanner to stitch the divided img.

2 flatbed scanners are working full time in the Print office

Improving the productivity of book scanning using both monochrome and color scanners.

Utilizing the existing scanner and copier in conjunction with the Kurabo software

Aupier-Copy and KB software enables the scanner to send scanned img directly to the existing copiers.