Overview
Allows highly accurate measurement.
An inline type system allowing simultaneous measurement of up to 4 components
List of chemical solutions by device type
Features
Achieves the world's highest accuracy
By adjusting the temperature of the measurement cell and optical filter, the impact on measurement results caused by temperature changes is minimized.
Automatic measurement and pure water calibration
Reduces the stress of measurement and maintenance by incorporating a solenoid valve.
High performance data processing
Allows simultaneous measurement of up to 4 components. Multi calibration curves are available.
Use example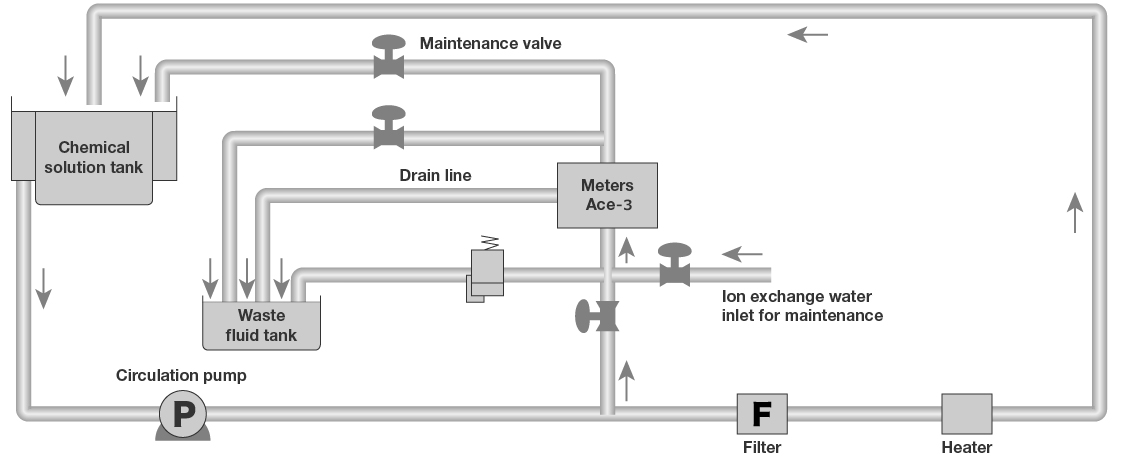 Specifications
Measurement method
Transmittance Spectroscopy measurement based on near infrared rays (0.8 - 1.4 μm)
Measurement wavelength
Eight wavelength spectroscopy based on optical filter
Measurement cell
Flow Cell (3 ml), sapphire for hydrofluoric acid, quartz for others
Data processing method
Computer processing by KURABO's unique principal component recurrence method
Number of applicable components
1-2
Minimum measuring time
20 seconds or less (only for measurement, excluding suction and cooling time, etc.)
Ambient temperature
25ºC ± 5ºC
Setting temperature for measurement
25ºC ± 5ºC
Dimensions / Weight
250 (W) x 330 (D) x 282 (H) (mm)
15 kg (spectroscope unit)
240 (W) x 300 (D) x 150 (H) (mm)
6 kg (Data processing unit)
(Excluding projections in dimensions)
Power supply
DC24V ± 10% MAX220W
Tube diameter
IN: Ø3 x Ø2 OUT: Ø4 x Ø3 (mm) Joint fitting
Zero calibration
Once a day or more, using pure water at 25ºC ± 1ºC
Concentration display
Four digit display (two decimal places)