Overview
KURABO's bestselling standard concentration meter model. Compact type integrating a data processing unit and measurement unit.
List of chemical solutions by device type
Features
Simple design
Simple operation method with simplified operation buttons.
Easier maintenance with less wear
Only regular replacement of a lamp inside the unit is required. Achieves reduction of downtime with superior durability.
Measurement principle not affected by the environment
Enables measurement without being affected by a small amount of turbidity, bubbles, or temperature fluctuation.
Use example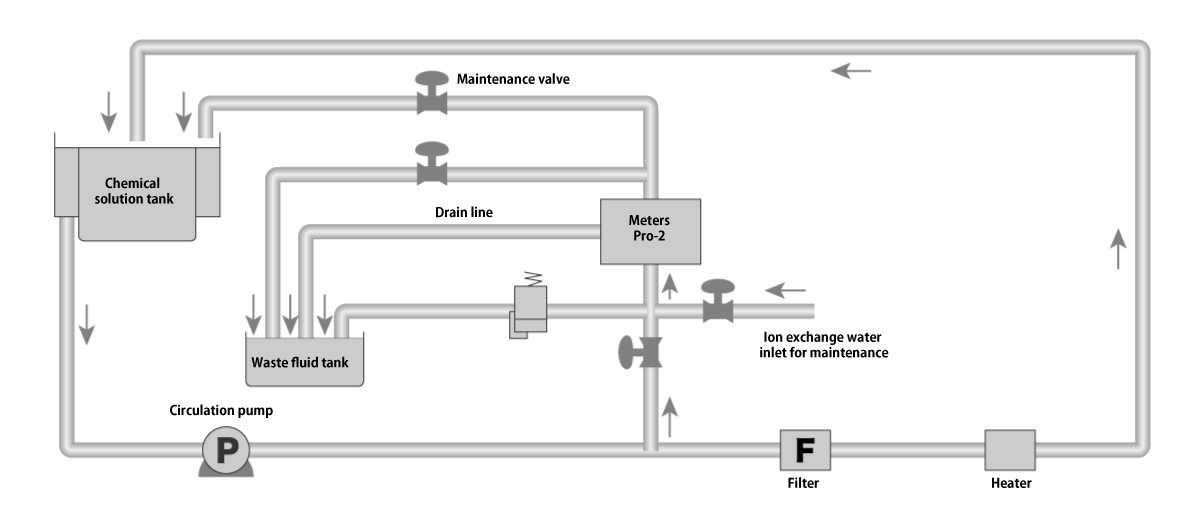 Specifications
Measurement method
Transmittance Spectroscopy measurement based on near infrared rays (0.8 - 1.4 μm)
Measurement wavelength
Eight wavelength spectroscopy based on optical filter
Measurement cell
Flow Cell (3 ml), sapphire for hydrofluoric acid, quartz for others
Data processing method
Computer processing by KURABO's unique principal component recurrence method
Number of applicable components
1-2
Minimum measuring time
20 seconds or less (only for measurement, excluding suction and cooling time, etc.)
Ambient temperature
25 ºC ± 5 ºC
Setting temperature for measurement
25 ºC ± 5 ºC
Dimensions / Weight
250 (W) x 330 (D) x 282 (H) (mm)
15 kg (spectroscope unit)
240 (W) x 300 (D) x 150 (H) (mm)
6 kg (Data processing unit)
* Excluding projections in dimensions
Power supply
DC24V ± 10% MAX 220W
Tube diameter
IN: Ø3 x Ø2 OUT: Ø4 x Ø3 (mm) Joint fitting
Zero calibration
Once a day or more, using pure water of 25ºC ± 1ºC
Concentration display
Four digit display (two decimal places)