BBMaster-1100V/ BBMaster-1100VL (Large-size manual device)
BBMaster1100V series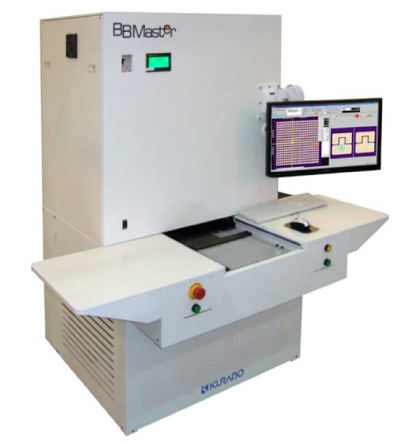 BBMaster-1100V
Available for special PCBs
Visual inspection for special PCBs such as various types of packaged PCBs, module PCBs, ceramic boards, and metallic boards
Features
State-of-the-art optical system
Single scan operation for high-resolution images and multiple scans for large size PCBs.
Compatible with automatic devices
Operates as a useful automatic machine when combined with a loader and unloader.
Wide variety of judgment functions
Clearly display the general view and each inspection spot and store defect results, images, sums, and histories to reduce human error in the inspection process.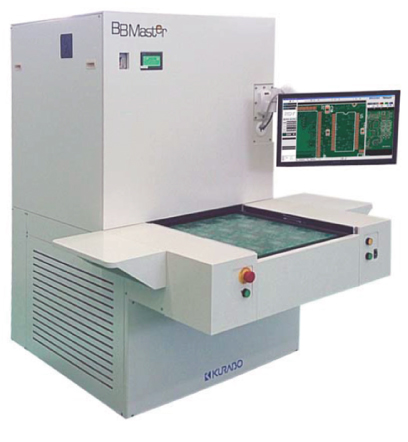 BBMaster-1100VL (Large-size manual device)
Manual inspection device for PCBs (up to 500 mm x 600 mm)
Provides the same inspection accuracy as BBMaster-1100V.
Specifications
Specifications
BBMaster1100V
BBMaster1100VL
Applicable PCBs
Various kinds of packaged PCBs, module PCBs, ceramic boards, metallic boards, etc.
Various kinds of packaged PCBs, module PCBs, ceramic boards, metallic boards, etc.
Applicable size
3.3 μm/pixel: 52 mm x 52 mm (Extendable to 100 x 100 mm)
5 μm/pixel: 80 mm x 80 mm (Extendable to 150 x 150 mm)
8 μm/pixel: 130 mm x 130 mm (Extendable to 250 x 250 mm)
15 μm/pixel: 240 mm x 240 mm (Extendable to 290 x 290 mm)
t = 0.4 mm-4.0 mm
500 mm x 600 mm (16 μm/pixel)
t = 0.4 mm-4.0 mm
Optical resolution*
3.3 μm/pixel, 5 μm/pixel, 8 μm-15 μm/pixel
3.3μm/pixel, 5μm/pixel, 8μm~15μm/pixel
Inspection items
Scratches, adhesion failures, dents, foreign material, short circuits, missing parts, abnormal patterns, dry film residue, molding failure, disconnection, copper residue, etc.
Scratches, adhesion failures, dents, foreign material, short circuits, missing parts, abnormal patterns, dry film residue, molding failure, disconnection, copper residue, etc.
Processing performance
Single scan: Approx. 25 sec/st to Approx. 60 sec/st
Double scan: Approx. 60 sec/st to Approx. 120 sec/st
Approx. 30 sec/st (16 μm/pixel)
Handling
Fixed with a right-angled guide, magnets, jigs, or air suction.
Fixed with a right-angled guide, magnets, jigs, or air suction.
Camera
Color/monochrome integrated high speed switching line sensor camera (16,000 pixels)
Color/monochrome integrated high speed switching line sensor camera (16,000 pixels)
Lens
M72 mounted lens (this may include lens barrel)
M72 mounted lens (this may include lens barrel)
Lighting equipment
High speed switching LED light (RGB + white)
High speed switching LED light (RGB + white)
Registration / Setting
Mouse and keyboard operation
Mouse and keyboard operation
Inspection
Push button operation (inspection start, suspension, return to origin, emergency stop)
Push button operation (inspection start, suspension, return to origin, emergency stop)
Dimensions / weight
1,480W (Without table 900) x 1,150D x 1,680H (mm) (without protrusion)
Approx. 200 kg
1,480W (Without table 1,000) x 1,650D x 1,680H (mm) (without protrusion)
Approx. 350 kg
Power supply
AC100V ± 10%, 50/60Hz, 20A
AC100V ± 10%, 50/60Hz, 30A
* These specifications can be modified on demand