BMV 1000 (Verifying station with stereomicroscope / optional defect marking function)
Initials of "bad", "marking", and "verify."
Ideal for verification process of package or module PCB.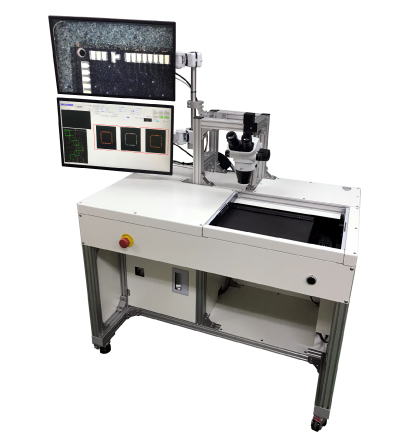 Features
High-speed, high-accurate microscope centering function
Automatic centering of microscope field based on coordinate information, allowing a great reduction in measurement stress and time.
Defect mark checking function
Provides a defect marking function and a function for preventing missing markings and confirmation failures.
Verifying results summing function
Analyzes causes of failure for early detection and the improvement of problems in the process.
Applicable product and optical equipment
| | |
| --- | --- |
| Specifications | BMV1000 |
| Applicable product | 170x170 mm *A wide version of up to 196x280 mm is available on request. |
| Fixing | Vacuum adsorption, blower adsorption |
| Applicable microscope | Selectable by consultation |
| Trinocular microscope checking | camera / lighting equipment |
| Marking checking | camera / lighting equipment |
Main body specifications
| | |
| --- | --- |
| Specifications | BMV1000 |
| Dimensions | 1,300W x 1,100H x 700D (mm) |
| Power supply | Single-phase AC100V 50/60Hz 15A |
| Pneumatic source | 0.5MPa 90NL/min |