Medium-term Management Plan
Investor Relations
Creation '21—The Kurabo Group's New Medium-term Management Plan
The Kurabo Group has formulated a new three-year medium-term management plan, Creation '21, with the target year of fiscal year 2021, and started it in April 2019.
Creation '21 is positioned in the first stage of the Kurabo Group's Long-Term Vision 2030, which also started in April. Under the Long-Term Vision 2030, the Group aims to become a "Strong corporate group that generates innovation and high profit" by 2030, and Creation '21 will be an important action plan to realize that.
Under the previous Advance '18 medium-term management plan, we set our basic policy as "Business transformation to increase earnings" and implemented various measures, including the expansion and strengthening of overseas business, the restructuring of domestic business, the transformation into a market-oriented business focused on the future market, and the pursuit of highly profitable business.
However, despite the steady progress we have made, the business environment has changed more rapidly than expected, sales have declined due to withdrawal from unprofitable businesses and business cutbacks, and the establishment of new businesses and businesses to supplement these has been delayed. As a result, we have not achieved satisfactory results.
Based on the lessons learned from Advance '18 and its results, under Creation '21, the Group will continue to work on various Advance '18 measures as well as create innovation so that we can contribute to society. We will reform our business model, establish a highly profitable business structure, and work to improve corporate value.
In time with the start of Long-Term Vision 2030 and Creation '21, in order for the Group to work together to achieve its targets, we revised our management philosophy to "The Kurabo Group contributes to a better future through the creation of new value."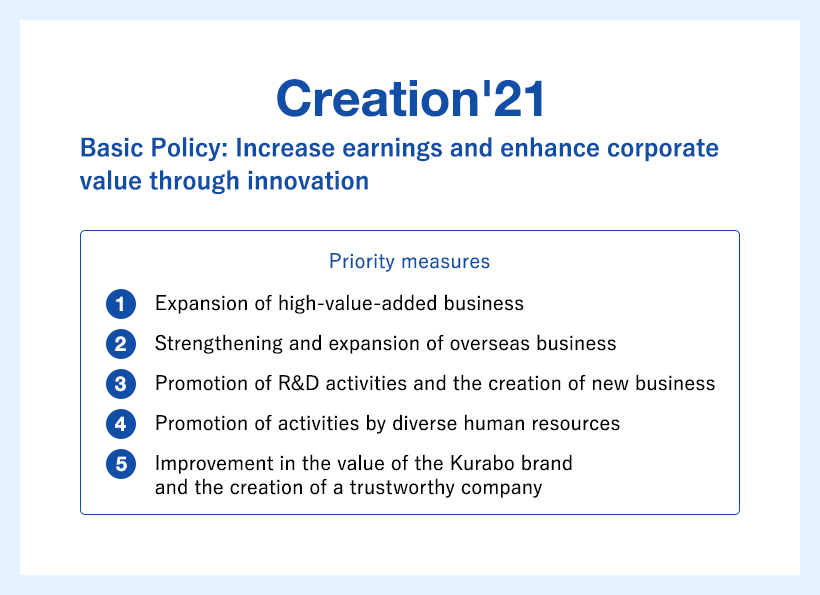 Consolidated Performance Targets
Fiscal 2021
(target year)
Fiscal 2018
(base year)
Net sales
170
157
Operating income
9
5.6
Ordinary profit
9.5
6.1
Net profit
6.5
4.6
ROA
5.0%
3.1%
ROE
6.6%
4.9%
Note: ROA means return on assets and ROE means return on equity.
Results by Business Segment
Net sales
Operating income
Fiscal 2021
(target year)
Fiscal 2018
(base year)
Fiscal 2021
(target year)
Fiscal 2018
(base year)
Textiles
62.2
59.7
0.8
(0.9)
Chemical Products
68
61.1
3.5
1.9
Advanced Technology
24
21
2.3
2.2
Food and Services
12
10.6
1.2
0.9
Real Estate
3.8
4.4
2.5
3
Elimination or company-wide*
−
−
(1.3)
(1.6)
Total
170
157
9
5.6
* The breakdown of "Elimination or company-wide" is mainly for R&D expenditures not attributable to any segment.
Overview of Priority Policies by Business Segment
While aggressively investing management resources towards growth and priority areas in each business field, we will strive to build a model that leads to the expansion of our business operations and earnings. In addition, we will also focus on the development and provision of products and services that help solve social issues, including contributions to the SDGs. Our main priority measures in each business segment are as follows.
Textiles

・Expansion of sales of high-value-added products based on the building of a new business model
・Improvement of competitiveness based on smart factories utilizing AI and IoT
・Restructuring and expansion of global operations
Chemical Products

・Expansion of business operations based on concentrating management resources on high-value-added business (high-function resin products, functional films, high-performance materials)
・Rebuilding of core business (urethane foam and building materials), development of new products, and expansion of new markets
・Pursuit of the expansion of global business and synergistic effects based on strengthening cooperation with affiliated companies
Advanced Technology

・Development of improved system products using AI in fields such as robotics, inspections and measurement, and genetics
・Expansion of infrastructure-related products and renewable energy-related products
・Expansion of sales of machine tools (horizontal boring and milling machines) centered on overseas bases
Food and Services

・Expansion of B2B centered on freeze-dried foods
・Increasing orders for large banquets and inbound tours at Kurashiki Ivy Square (hotel business) and attraction of customers through large-scale renovations
Real Estate

・Restructuring of real estate leasing business aimed at maintaining and securing stable, long-term earnings
Investment of Management Resources
Aiming for the expansion of our business operations, we will invest a cumulative total of about 22 billion yen in facilities over three years, including for the expansion of functional film production lines, the expansion of fiber material reforming facilities, the large-scale renovation of Kurashiki Ivy Square, and the use of AI and IoT to make plant facilities smarter and to update aged facilities. In addition, we will invest aggressively in business, including M&A and capital alliances, as required.
At our Technical Research Laboratory, which plays the role of creating new businesses for the Group, we utilize R&D resources efficiently to further develop the core technologies we have cultivated thus far and promote business development activities focused on the four fields of semiconductor technology, robotic sensing, highly functional compound materials, and the life sciences.
We will focus on the establishment of a workplace environment and systems within which diverse human resources can make the most of their individual abilities and work energetically, flexibly, and in good health. In addition, we will also strive to secure human resources who can play an active role in any environment and to develop next-generation leaders.
Creation of a Trustworthy Company
1. Strengthening of corporate governance
In our efforts to be a company that is trusted by stakeholders including shareholders, customers, employees, and local communities, we will implement management based on the Kurabo Corporate Governance Guidelines and strive to strengthen corporate governance to conduct fair and transparent business activities.
In addition, we will establish a voluntary advisory committee, centered on independent outside directors, that will discuss matters such as nominations and compensation for directors.
2. Strengthening and promotion of CSR activities
Under the supervision of the Kurabo CSR Committee, we will further strengthen the activities of each CSR Expert Committee by, for example, strengthening systems to implement ethical business activities, thoroughly implementing internal education, reducing environmental impacts through CO2 reduction and pursuing zero emissions, and promoting diversity.
Strengthening of the quality assurance system
We will focus on strengthening our quality assurance system through the activities of the newly established Quality Assurance Committee and Quality Audit Group.
Contributions to the SDGs (Sustainable Development Goals)
Our management philosophy, "The Kurabo Group contributes to a better future through the creation of new value", is closely linked to the SDGs.
We will continue to use our business to help realize the SDGs, particularly by clarifying those through which Kurabo can best make a difference; for example, Goal 9, "Industry, innovation, and infrastructure," and Goal 11, "Sustainable cities and communities."
3. Strengthening of relationships with shareholders, customers, and local communities
We will strive to build and maintain good relationships with shareholders, customers, and local communities through efforts such as maintaining a stable dividend policy, supplying the products and services the market demands, and ensuring continuous employment. We will also focus on raising corporate recognition by, for example, stepping up public relations activities.
(Notes)

The business results and other information contained in this document are based on the Group's projections assuming the prevailing business environment and other factors at the time the document was prepared. Kurabo does not promise or guarantee the realization of future numerical results or measures stated in this document.