Contributing to the SDGs
Sustainability
Kurabo has helped resolve social issues since its founding
Kurabo was born of the determination of its young founding members to establish a spinning company and spur social development in the village of Kurashiki (the present-day city of Kurashiki, Okayama Prefecture), which in the late 1800s lacked any major industry. Kurabo's second president, Magosaburo Ohara, under whose leadership the company grew significantly, demonstrated a thoroughgoing commitment to the humanity of workers by making improvements to the work environment and enhancing employee benefits in a way that was revolutionary for a time when harsh working conditions were the norm. The company also contributed to the development of the local community by building a hospital and an art museum.
Today's Kurabo has grown beyond the textile business into a diverse range of business domains, but its dedication to developing products and technologies around themes such as health, safety, and the environment remains unchanged, mirroring Magosaburo's efforts to increase human happiness through a commitment to labor idealism and the company's social mission.
We believe that the Kurabo Group's journey to date and its pursuit of business activities conceived to create comfortable, fulfilling lifestyles for people around the world will help achieve the UN's Sustainable Development Goals (SDGs).
Kurabo and the SDGs
The SDGs, which were adopted at a United Nations summit in September 2015, comprise a series of shared international goals. The Kurabo Group's business activities, which are founded on its philosophy of "contributing to a better future through the creation of new value," resonate with the SDGs.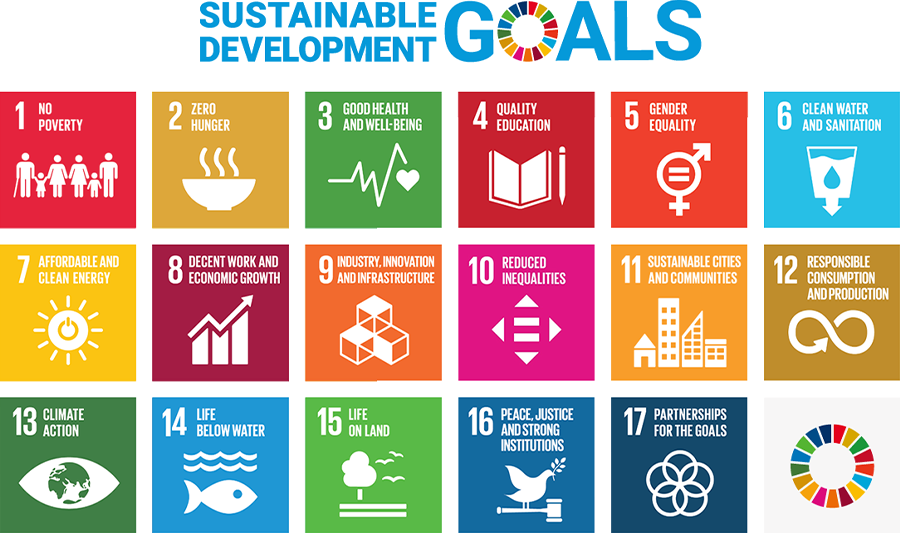 SDGs Related to Our Businesses
Textile Business
Manufacture and sales of textile products of cotton, synthetic fiber, wool, and other materials / Dyeing, treatment, and finishing of cotton and synthetic woven and knitted fabrics
Related SDGs
Related business activities

・Supporting measures to combat heat stroke and infectious disease
・Developing a cyclical business by recycling cloth cutting waste
・Developing and supplying functional natural fibers through modification technology
・Utilizing recycled polyester and biodegradable fibers
Chemical Products Business
Manufacture, processing, and sales of polyurethane foam, synthetic wood, inorganic building materials, functional film, microfiltration equipment, high-performance engineering plastics, nonwoven fabrics, and reinforcing nets
Related SDGs
Related business activities

・Improving the energy efficiency of houses
・Promoting use of recycled plastic
・Promoting use of timber from forest thinning
・Utilizing recycled scrap material
・Developing products that use rice hull ash and coal ash
Advanced Technology Business
Manufacture, sales, and maintenance of information systems for color control and production control, and of inspection and measurement systems / Design, manufacture, construction, and sales of environmental and energy-related plants and equipment; biomass power generation / Manufacture and sales of biomedical-related products
Related SDGs
Related business activities

・Reducing food waste through more advanced packaging
・Facilitating long-term maintenance of transportation infrastructure such as roads and railroads
・Promoting use of renewable energy
・Promoting use of waste products such as timber from thinned forests
・Supporting genomic medicine research using nucleic-acid isolation systems
・Improving production efficiency of wagyu beef through genealogical management
・Improving grain varieties by extracting plant-use nucleic acids
Food and Services Business
Manufacture and sales of freeze-dried food; management of hotel, driving school, and other facilities
Related SDGs
Related business activities

・Supplying safe, highly nutritious foods
・Stockpiling supplies for use in the event of a disaster
Companywide and other activities
Related SDGs
Related business activities

・Promoting diversity and inclusion
・Realizing flexible workstyles
・Building a foundation for industrial and technological innovation
・Developing livable communities through real-estate rentals
・Pursuing zero emissions