6 Core Technologies
1. Mathematical science

Mathematical statistics calculation, design prediction (molecular design, etc.)

2. Physical science

Device design, motion control (mechatronics)

3. Photoelectric engineering

Optical measurement, sensing device control (IoT, etc.)

4. Information engineering

Information processing, algorithm development (AI, etc.)

5. Materials science

New materials, new functions (composite materials, surface modification)

6. Life science

Cell engineering, genetic engineering (extraction, culture, analysis)
R&D Matrix Management System
The Technical Research Laboratory comprises the core technology group, which advances core technologies, and the applied development group, which supports product development that leads to new business.
The Technical Research Laboratory's management system is specially designed so that these two groups can work together across different disciplines in joint project teams that combine core technologies to give birth to new businesses that are differentiated from our competitors.
Core technology group

The group's mission is to create new technologies unlike those of competitors and refine these technologies to be more competitive in markets so that Kurabo can create new innovative businesses.

Applied development group

The mission here is to create added value from our technologies and convert this added value into new businesses (new products).

Project leaders

Leaders are mid-career employees who lead projects by consulting with managers of the core technology group and appointing the team members necessary for the success of the project.
Projects to Launch New Businesses
There are four new business commercialization projects being carried out by the Technical Research Laboratory. They are proceeding as part of key businesses established under Kurabo's management strategy and follow themes connected to future markets. The aim is to create new business by fusing our six core technologies in these four projects.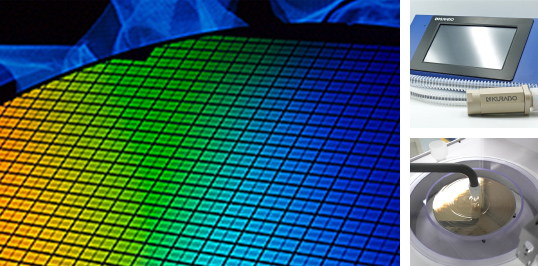 Real-time control and precise measurement of chemical solutions
Semiconductor Solution Project
Under our semiconductor solution project, we use real-time control and precise measurement of chemical solutions—technologies that differentiate us from competitors—to develop next-generation cleaning and etching businesses. A particular focus is the creation of new business that realizes practical use of in-situ measuring; in other words, on-site, direct measurement based on the current reaction and cleaning situation.
Camera eye recognizes the shape and position of objects
Robot Sensing Project
The robot sensing project combines and advances our technologies in areas such as color engineering and image processing, combining these with high-speed 3D cameras with the goal of creating a vision sensing business. In order for the robot to be able to handle moving objects and indeterminately shaped, soft materials, we are developing a robotic "eye" that can instantly determine where to hold an object and a "brain" that uses AI to accurately recognize the object.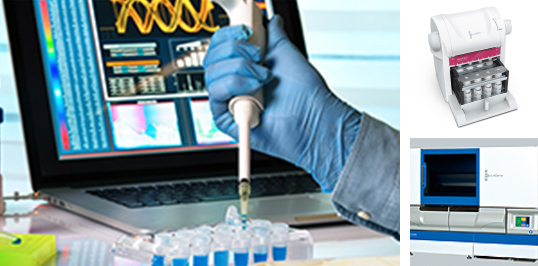 Next-generation cell culture techniques open the door to the era of iPS cells and regenerative medicine
Life Science Project
In the life science project (biomedical field), we focus on creating applied genetics business through the application of nucleic-acid isolation-related biochemistry and device control technologies. Our goal is to create new businesses in areas such as regenerative medicine and new cell culture.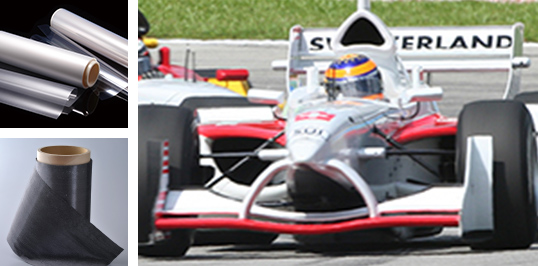 Molding and modification of highly functional film and reinforced fiber
Materials Solution Project
In the materials solution project, our aim is to strengthen businesses related to highly functional super engineering plastic film and fiber-reinforced composite materials. A particular focus is on proprietary reinforced fiber materials that use not only plastic but that also combine metals and other materials into new composite materials.