R&D Policy and Systems
The Kurabo Group got its start in spinning, then used the proprietary technologies it developed to branch out into the making of new products. Today, we provide products and services in a wide range of fields such as textiles, automobiles, housing, semiconductors, and medical. Our goal is to take the technologies and know-how we have built up in these fields and continuously upgrade them with state-of-the-art methods in a synergy that gives birth to new value.
Role of the Technical Research Laboratory
The Technical Research Laboratory of the Advanced Technology Center is our base for state-of-the-art technology. As the hub of the Group's R&D, it paves the way to the future by using innovative thinking to develop core technologies that are disseminated throughout Kurabo. It plays the dual roles of corporate research base expanding business throughout the Kurabo Group and company research base carrying out the development and analysis of products for the business divisions. The applied development group, which uses technologies to tap into business according to market needs and trends, and the core technology group, which cultivates technologies in six specialty fields, collaborate on synergistic project teams in which they combine core technologies in order to create new businesses unlike those of any competitor.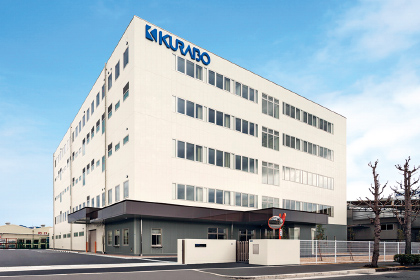 The role of the Technical Research Laboratory, in line with Kurabo's management policy, is technical innovation and the creation of new business. There are two key measures aimed at fulfilling this role.
1. Expand business areas through research and development

Continue to take on new challenges through new ideas and frameworks in order to achieve innovation.

2. Contribute to business profits

Advance technologies through targeted strategies to continuously distinguish our technologies from the competition.
Young and Mid-career Employees Take on
Challenges for the Future
Towards the realization of Society 5.0, we are seeing the emergence of technologies that use artificial intelligence to make high-level decisions and analyze massive amounts of data. Companies are undergoing a paradigm shift as they adopt new strategies by revising their R&D philosophy. Against this background, the role of the Technical Research Laboratory takes on increasing importance.
The young and mid-career researchers who represent our future have many opportunities to learn the philosophy of our founders and the history of our company, as well as grow and take action as the "pioneers and challengers of Kurabo's future" so that they can help Kurabo build a future in which they will play a key role. Under the matrix management system that we introduced in fiscal 2016, mid-career employees act as commercialization project leaders, making use of their creative minds and receiving valuable advice from experienced Kurabo employees. Young researchers are also encouraged to participate flexibly and proactively in the projects, with a view to new businesses 10 years down the road.
In the Technical Research Laboratory, rather than having separate labs and equipment for each development team, we have designed the labs according to functions, and all researchers can use these functional labs as shared space. Researchers can work in rooms of their choice that match the needs of their intended experiments and development efforts. In addition, they are free to sit and work wherever they want in the partition-less offices, which creates a freer atmosphere conducive to communication and interaction among project members.